Award win for PHA UK's member magazine
PRESS RELEASE:
The magazine produced by the Pulmonary Hypertension Association (PHA UK) has won a prestigious communications award.
'Emphasis' won gold in the 'best publication' category in the Chartered Institute of Public Relations (CIPR) PRide Awards for Yorkshire and Lincolnshire, held in Leeds last week.
The PHA UK, which has its head office in Sheffield, publishes the 52-page magazine four times a year. Containing news, features and advice columns, the publication aims to help the charity's 3,500 members live well with pulmonary hypertension (PH); a rare, serious disease of the heart and lungs.
Judges praised Emphasis for delivering 'informative and uplifting content which directly addresses the issues and concerns of those with PH.'
Iain Armstrong, chair of the PHA UK, said: "Pulmonary hypertension has a huge impact on those who live with it, and as a rare disease, access to information and support can be limited. We launched Emphasis to help educate, inspire and entertain the PH community and we're very proud of how it's evolved. Our members often tell us how much they look forward to reading the magazine but to be recognised with this prestigious award is the icing on the cake."
Emphasis is edited by Sheffield-based communications agency Capital B Media and designed by its associates Creative Smith. It can also be read online by clicking here.
The Pulmonary Hypertension Association UK (PHA UK) is the only charity in the UK dedicated to supporting the PH community made up of patients, their family and carers and NHS professionals too. It provides information, support and advice; and funds thousands of pounds worth of medical research and health education initiatives to promote better awareness, diagnosis and treatment of the disease.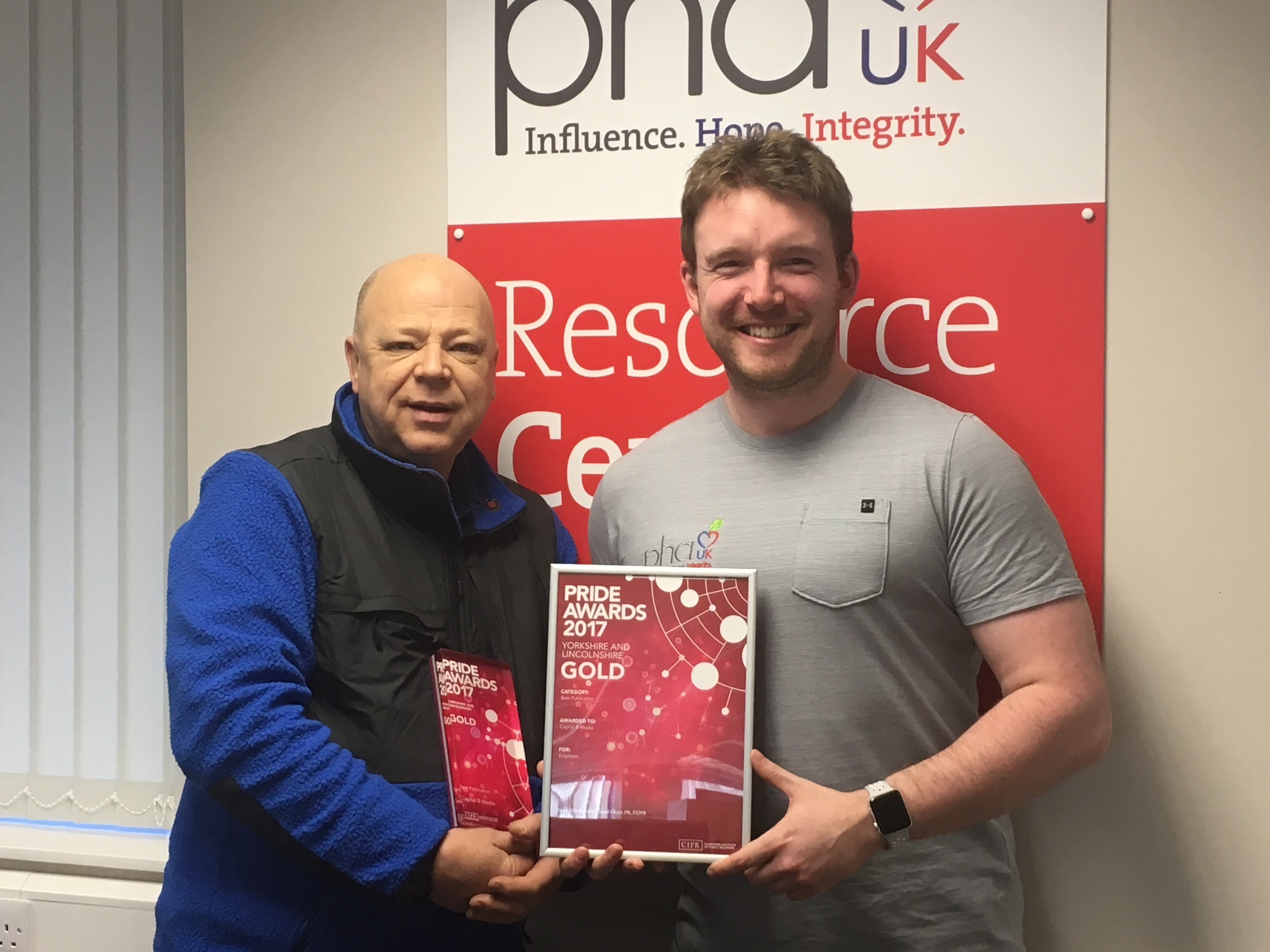 Notes to Editor
Image shows Iain Armstrong, Chair of the PHA UK (left) and Shaun Clayton, director of membership services at the PHA UK, with the award.
The regional Chartered Institute of Public Relations (CIPR) PRide Awards take place every year to recognise outstanding work in communications and public relations.
Media contact:  Mary Ferguson at Capital B Media on 01226 766900 or at mary@capitalbmedia.co.uk
 PHA UK is a registered charity no: 1120756