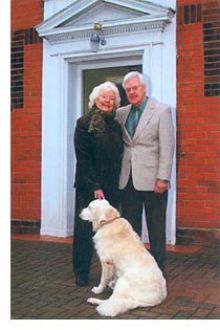 My recent life can be divided into two periods – before and after PTE (Pulmonary thromboendartyerectomy) I had always been reasonably fit and had an active lifestyle. I worked with children for some 30 years, and was the local hospital's superintendent paediatric physiotherapist which was a physically demanding job. However, I was forced to retire in February 1996, which was earlier than I had intended, because of breathlessness. I saw my GP regularly about this, and also the hospital chest consultant. They diagnosed hyperventilation, related to stress and depression. My notes contained the phrase "neurotic depression". I nearly passed out on several occasions involving climbing stairs or heights, and lost confidence in myself. I did get depressed on occasions which probably reinforced the GP's opinion.
Eventually, in January 1998 I was referred to a cardiologist "to exclude cardiac cause" according to my notes. He arranged an echocardiogram and VQ scan and diagnosed pulmonary hypertension. The right side of my heart was distended. I was aware of the seriousness of this, and for a while was very depressed. Despite taking warfarin and oxygen, my condition deteriorated over the next few months and I was referred on to Professor Higgenbottam at the Hallamshire Hospital Sheffield. Then followed three years of inhaling iloprost through a nebuliser several times a day as well as carrying on with the warfarin and oxygen. Going away anywhere became quite an ordeal. In 2001 however, Dr Kiely arrived from Papworth and reappraised my situation, the outcome of which was a referral to Papworth and a PTE in February 2002. at that time, the procedure was relatively new – I was number 86 to have the operation, and it was quite a high risk but the alternative was a slow death. While it took some time to recover from what is major surgery, this gave me my life back. I could walk our dog without trouble and no longer needed the oxygen. The care and skill of Mr John Dunning, the anaesthetists and the nursing stag were exceptional. I was one of several who signed a recommendation for an honour for John Dunning but footballers and pop-stars seemed to be more important.
I am sure that my profession of physiotherapy and my hobby of singing have helped my recovery. I have always had good lungs, and singing is a wonderful hobby. While my lungs are still not 100% I can do occasional solo work and my teacher is surprised that I still have a reasonable voice at my age. When I was first diagnosed with pulmonary hypertension, my main concern was whether I would see my grandchildren grow up. The youngest is now 9 and the others are at secondary school and we see them regularly. At least they will be able to remember their grandmother and they joined us last year in celebrating our Golden Wedding Anniversary. We have a good life and have visited friends and relatives in North America and South Africa in recent years, as well as regular trips to our grandchildren in Holland. This summer I climbed the highest sand dune in Europe near Bordeaux, though I did stop for breather on the way up.
This has been a difficult journey and I needed the support of friends and especially my husband. Fortunately, Ernest is quite a fit person as taking oxygen cylinders and the concentrator up stairs whenever we went away was difficult. He retired from full-time work early in order to avoid having to work away from home. Taking the iloprost was unpleasant but held back progression of the PH and kept me alive until the PTE operation. I am sad that NICE appear to be banning its use. When I was at my worst, our daughter died suddenly a couple of months before my operation. Fortunately we have good friends and the support we received from our church over this period was great – this included a prayer vigil during the day of the operation. When you are faced with a slow death and then get your life back, you realise the value of so many things you had always taken for granted and I try to remember that every day is a good day.
Apart from the high quality of the staff at Sheffield and Papworth, I feel that I must praise the service we received from British Oxygen – it was first class. We have much to be thankful for.
Hilary Smith