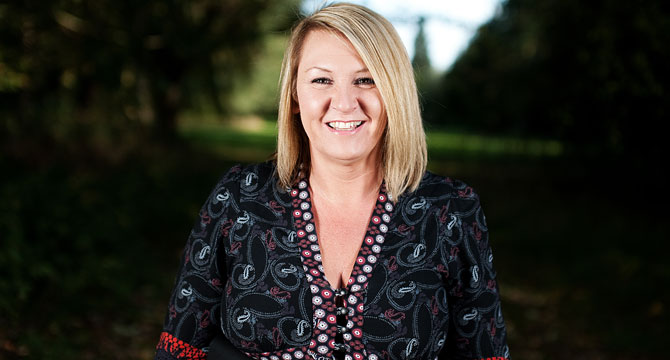 When Joanne Carr couldn't climb the stairs with her newborn baby nine years ago she put it down to the exhaustion that comes with becoming a new parent. She tried hard to push herself.
"My husband worked nights when Jake was about four or five months old and I used to stand at the bottom of the stairs after a 2am feed, look up and think 'I don't think I can do it'. I always did of course, then sat down, got over the breathlessness and put it out of my mind until the next time. I was so scared of people thinking I wasn't coping."
Joanne, who was then 33, was tired all the time and it did not get any better when she went back to work.
"It was only a short walk from the car park to the office, but I began avoiding colleagues because I knew I wouldn't be able to keep up with them. I was embarrassed calling the lift to go up – or down – one flight of stairs."
It took a pain in her chest to get Joanne to finally go to the doctor where tests were run for gall stones, ulcers and all manner of things. Finally, a chest x-ray revealed there might be 'something wrong with her heart'.
Joanne, who lives in Doncaster, South Yorkshire, went into her local hospital for more tests and from that point her condition escalated.
"The thing is, I had a bit of a phobia about needles," says Joanne, "So when they first put in a cannula I passed out, but it wasn't just an ordinary faint. The crash trolley was brought in; I needed resuscitating and was admitted immediately. Then I couldn't stop collapsing. If I sat up to do anything I'd collapse and need heart massage to bring me round."
Things got worse and the drugs the doctors were trying weren't helping. After five or six blackouts in one frightening Friday evening, all of Joanne's worried family were called to be with her and there was talk of an immediate, urgent need for a lung transplant.
Then her doctor thought of something which probably saved her life. He had heard of a rare lung disease and knew a specialist consultant in neighbouring Sheffield. He phoned Dr Kiely of the Royal Hallamshire Hospital.
"Dr Kiely was not at work, but my doctor reached him on his mobile and I think he diagnosed me there and then. His advice was to put me on Iloprost right away. I was throwing up with the drug but I made it through the night."
Joanne was transferred to the Sheffield PH specialist unit next day and has been under their care ever since.
Iloprost remains the drug which suits Joanne. A Hickman line has been fitted to administer the drug constantly to her heart using a small pump she wears on her belt. She has tried using a nebuliser instead to take the drug, but this does not give her enough to manage her condition. 18 months ago, she began taking Sildenafil too and she is well enough now to enjoy taking her nine-year-old son out for the day and plan a full family outing to the Olympics this summer.
"I thought I was going to be dead by the time I was 35 – my life expectancy was two to three years when I was diagnosed. But I am still here and try a get as much as possible out of every day."
"I can climb the stairs now without gasping. That will do for me."