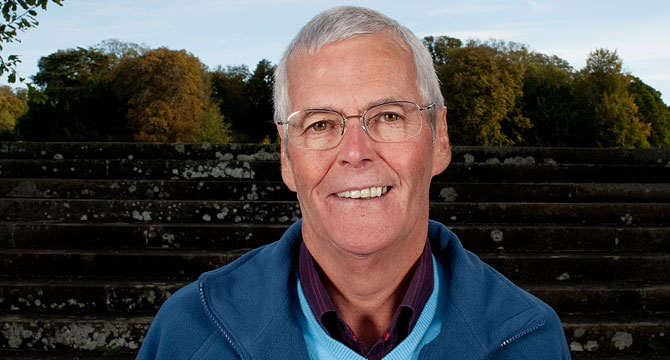 Just over twelve years ago, aircraft engineer John Hayward started to notice that climbing the 40ft-high staging to carry out an inspection on a Boeing 747 was really taking it out of him.
"The walk from my car, up two flights of stairs to our office was also making me breathless," says John. "Colleagues were noticing how long I had to sit down to get over any exertion."
In his early 50s at the time, John went to see his doctor. He received treatment for fluid retention, but his breathlessness only got worse.
"I was worried I was heading for a desk job," says John, who asked to see "the best chest consultant available." In 2001, at the Royal Brompton Hospital, London, he was diagnosed with pulmonary hypertension.
John was no stranger to serious illness. His PH was identified as a secondary condition relating to a connective tissue disorder – dermatomyositis – he'd been diagnosed with in 1972. After a course of steroid and immune suppressant treatment for this muscle disease, he was finally in remission in 1992.
"We'd put that behind us," says John. "My wife Sue and I had learned to scuba dive. We'd taken a round-the-world trip and been diving in Fiji and the Great Barrier Reef." But, now John needed urgent treatment for his PH and was referred to the Royal Free Hospital in London.
"It was a fraught time as I kept having coughing fits and black outs. We knew nothing about PH. I was introduced to the Treprostinil medication and shown how to inject myself in the stomach. I was horrified at first but given lots of support."
"Then one night I must have been more ill than I thought because a nurse came rushing in to resuscitate me. My heart had stopped. That was the first time the Royal Free Hospital saved my life."
For about eight years, John managed his condition by administering Treprostinil under the skin in his stomach, a tricky and often painful business for many PH sufferers. He then had a type of Hickman line fitted. His PH pressures reduced. Things were getting better – then there was more bad news.
In 2010, a CT scan revealed a non-Hodgkin lymphoma – an aggressive cancer of the lymphatic system. John began a course of chemotherapy which kept him in hospital for five weeks.
"It was a very traumatic time as the cancer and chemotherapy affected my immune system. If I'd had an infection in my chest line when my immunity was so low I wouldn't have survived.
"When I was finally allowed home, my wife had learned how to handle my pump and syringe changes as my hands were shaking too much to do it myself."
"No-one really knew if I was going to see Christmas, but the chemotherapy worked brilliantly. The Royal Free Hospital had saved my life a second time. I've been very lucky being in the right place at the right time twice."
After nearly three years of having a chest line, John's PH pressures have lowered enough to transfer to Bosentan tablets and he's been feeling the best he has for years. He will eventually come off the pump.
After a long period of ill health and hard knocks, John is looking on the bright side and looking forward very much to going swimming with his grandchildren.