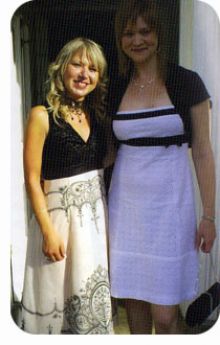 For some time now I've been thinking of writing an article for emPHAsis, but not found the inspiration or right timing. Having recently attended the PHA-UK conference, I suddenly felt that now is the time!
For those who don't know me, I'm Paula Garnham, and I'm a patient of Papworth Hospital, Cambridge. I'm now 37 and was diagnosed with primary pulmonary arterial hypertension in July 2003.
This year's PHA-UK conference is the first I've been able to attend. I was pleasantly surprised and glad to have been part of it. I thought it was very well organised, and obviously a lot of hard work had gone into it. Thank you and well done to all those concerned!
Apart from the professionals giving talks and advice, which was good, I particularly enjoyed listening to members' reflections, which I understand was new to the conference this year. It was comforting to hear others' experiences and relate to them.
Previously I was married for twelve years. After my ex-husband left early in 2000, we divorced, and I was forced to move to another town 40 miles away to make a new life on my own. Just turned 30 and single again after 12 years – how scary, I thought!
Then in 2002 I was made redundant! So things couldn't get much worse, or so I thought… I still live by myself and have done for seven years now. I was 33 when I was diagnosed with PPH in 2003. Being diagnosed came as a huge shock, as I'd always been fit and healthy, and looked after myself. I'd never been to hospital for anything and had a good career.
I had a challenging job in marketing/ promotions/event organising, which took me up and down the country and by then I had a steady boyfriend, too. I went to join a new gym close to my work and had an assessment in December 2002. A couple of minutes on the exercise bike and treadmill left me very breathless and exhausted. I thought the setting must be wrong! As the Christmas season was approaching, I decided to leave things until the new year. By January, though, I'd developed a consistent cough, and walking upstairs made my heart pound painfully.
I went to the doctor. "It's probably a virus," he told me. "Wait until the weather improves". Six weeks later I was feeling no better. "Try this inhaler," he said. He thought I had mild asthma. I changed jobs, but when I arrived home at 6:00pm I found myself crawling into bed exhausted! I went back to my doctor about six times.
Eventually, in June, a different GP arranged for me to have some blood tests done and sent me off to see a blood specialist at my local general hospital. My work mates said, "Don't worry, it's probably an iron deficiency or something. We'll see you tomorrow."
But tests showed my oxygen levels seriously low at 70% and I was admitted that night! Mad panic! Had to phone parents, and get them to go to my house to get clothes and overnight bits. I remember telling the doctors that I couldn't possibly stay overnight as I had far too much to do at work the next day!
After one week, I was transferred to Papworth Hospital, where I spent a further five weeks having tests and scans, and trying out different treatments. At that time I was devastated at hearing what I had and kept asking why. Why me? And why now? "When can I go back to work?" I kept asking. "Not for some time yet, if at all," came the reply.
I eventually ended up on Remodulin/ UT15 administered by a subcutaneous pump to the stomach. However, like many people, I had the site pain.
Then I had a huge battle claiming benefits, went to tribunal for DLA, which eventually got sorted. In the meantime, my boyfriend decided it was all too much for him and we split up.
Within 3 years my life had changed completely! I've been in and out of hospital, had blood transfusions etc. and had to slow down. I've never been one to sit around watching life pass me by, so this was very hard.
After 15 months on the subcutaneous pump, pain killers that made me feel like a zombie and gels that made the dressings come off, I decided I'd had enough and switched to the Hickman line in December 2004, but still staying with the Remodulin drug. I was the first in the UK to try this method.
Initially I was adamant that I wasn't ever going to have the Hickman line (because of the look and bigger pump). I'd had several unsuccessful relationships on and off. I thought that with my illness and then having such an awful-looking tube attached to my chest, no guy would ever be interested in me, so might as well give up now!
A friend told me: "Your health is more important, and how you feel."
Well, I've never looked back since! I'm a different person now I'm not in pain and worrying about the needle coming out of my stomach. I manage to conceal the smaller Crono pump and Hickman line under my clothing, still wear low strappy tops, and even wore a bikini on holiday in Spain last year. So if anyone out there is unsure about changing from a subcutaneous pump to Hickman line, my advice is don't be – just DO IT. You won't regret it!
My prognosis isn't great – but I stress here that I'm a bit of an exception, as I wouldn't want to unnerve anyone else. In December 2005 I was also diagnosed with autoimmune hepatitis and am now on steroids to help my liver as well as the heart tablets, the warfarin, the diuretics and the oxygen… which means I now need a heart/lung/liver transplant. However, this isn't possible. I'm still being as optimistic as I can be, though, along with being realistic too!
What I will say, though, is that family, friends and getting as much support as possible really does make a difference. You certainly find out who your friends are! I've always been independent, hate asking others for anything, but sometimes you just have to give in… and be more vocal! I believe that being as happy and content as you can and minimising stress in your life really does help with your overall well-being and your immune system.
The last three years have been full of tears, laughter, stress, arguments, hugs, frustration and so on. Learning how to deal not just with the illness, but also with other people's reactions and how to treat each individual differently has been hard, as not everyone finds it easy to accept someone 'being seriously ill'. There's no book of rules, but you can get some useful tips and guidelines from both medical people and from other sufferers. It's important to have a good, varied mix – not too much of one thing or one person!
I felt very isolated when first diagnosed, but didn't want what was offered to me at the time. Since then, I've been to day therapy at hospices (I was an in-patient for a week for some respite after a chest infection), had unselling,different therapies such as Emotional Freedom Technique (EFT), acupressure, back massages, Indian head massages and relaxation breathing techniques. I also have a carer once a week to help with chores, shopping and so on, and I have contact with Citizens Advice and Social Services when necessary.
My condition has remained stable, so far, this year and I have just celebrated my 37th birthday with my nearest and dearest. I have just started a home study course on publishing and am looking forward to a new year and some new challenges…watch this space!
This may not be the last you hear from me – oh no, I hear you say! – as I have loads more I want to write and to share tips with you.
Take care
Paula