Make your voice heard in our Living with PH survey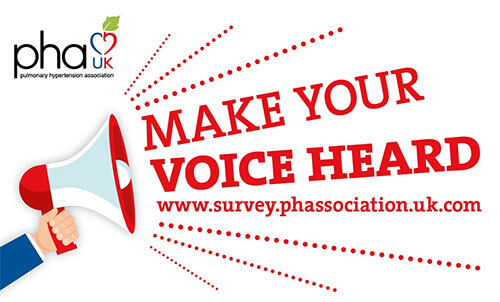 PH patients – we need you! This is your chance to help strengthen the voice of PH patients and make sure we are heard loud and clear in future debates about NHS policy and spending reviews.
We're asking you to share your experiences of living with PH by completing our survey, which is open to all adults diagnosed with pulmonary hypertension– you don't have to be a member of PHA UK to take part.
Complete the survey questionnaire by 25th April and be entered into a prize draw for a chance to win one of ten £25 gift vouchers!
Our survey asks about your experience of diagnosis, PH treatment and care and also the wider impact of the condition on things like your family life, finances and mental health. All responses are anonymous.
To take part in the survey online, click here.
If you are a PHA UK member and would prefer not to complete the survey online, you can fill in and return the questionnaire sent to you through the post with your Emphasis magazine. To request a new paper copy of the questionnaire, or if you have any queries, please call us on 01709 761450.
Chair of PHA UK Iain Armstrong says: "This is a vital piece of research into what it means to have PH in the UK today. Please do complete the survey and add your voice to help ensure we are loud and strong enough as a patient body not to be ignored."
This survey is focused on PH patients using adult PH services. A separate survey dedicated to children and young people with PH will be organised in future.
Thank you for sharing your experiences and making your voice heard.
Related weblink:
www.survey.phassociation.uk.com