PH Awareness Week 2019
It's here!
4th – 10th November 2019
<<<< Check out all the ways to get involved on the left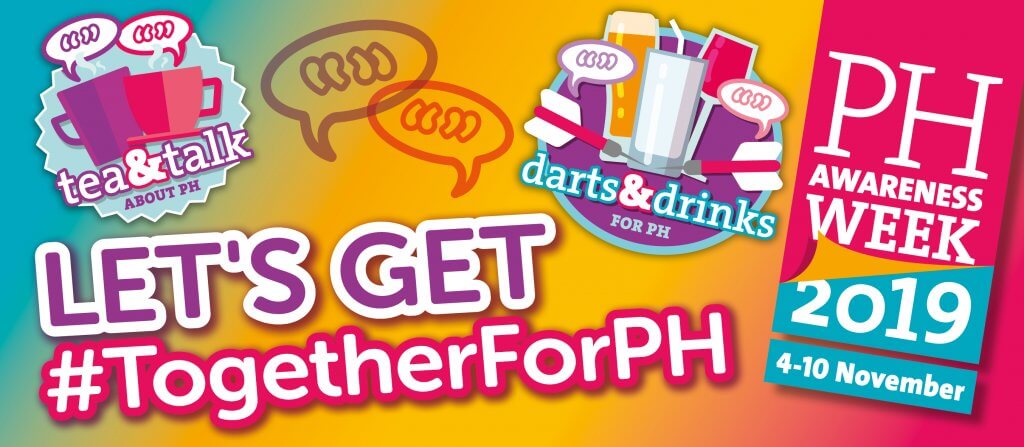 This year's PH Awareness Week is all about getting together. During the summer we conducted important research into the emotional impact of pulmonary hypertension and the results (here) show just how isolating this invisible illness can be. Let's work together to change that.
Find our press release about PH Week here
GET INVOLVED!
Why not hold your own Tea & Talk or Darts & Drinks event, to get people together at home, work, school or the pub? Click the menu on the left for your free event packs and to find out more.
Pledge your support for people with PH (and ask your MP too!) Fill in a short online form and your pledge will appear for the world to see. Click the menu on the left to find out more, including how to contact your MP.
There are lots of other ways to be part of PH Week 2019, and you can find out more using the menu on the left.
Here are just a few ideas:
GET SOCIAL: Change your profile pictures, post our special images, take your own with our selfie cards and more.
SHARE YOUR STORY: Blog, vlog or contact your local media.
LITTLE PHIGHTERS: Tell us how PH affects the children you love.
To talk to us about PH Week, please email media@phauk.org or call 01709 761450
Keep up with PH Week news by following us on Twitter, Facebook and Instagram.
Don't forget to let us know what you're planning!