PRESS RELEASE: The chair of a Sheffield-based rare disease charity has received a prestigious award for his work.
Dr Iain Armstrong, chair of the Chapeltown-based Pulmonary Hypertension Association UK (PHA UK), was recognised with a Fellowship Award by the Royal College of Nursing (RCN), the highest award it can give.
Iain, who lives in Stocksbridge, also works as a nurse consultant within the Sheffield Pulmonary Vascular Disease Unit, a specialist pulmonary hypertension service based at the Royal Hallamshire Hospital.
The fellowship was awarded at the RCN annual Congress in Liverpool yesterday (Sunday 19 May). It is given to individuals who have 'made an exceptional commitment to advancing the science and practice of nursing and the improvement of health care'. Only a small number of Fellows and Honorary Fellows are elected each year.
Pulmonary hypertension (PH) is a rare, serious disease affecting the heart and lungs. Iain founded the PHA UK in 1999 after recognising the need for a charity to support people diagnosed with the condition, which affects just 7,000 people in the UK. The organisation now has over 4,500 members and funds medical research and health education initiatives to promote better awareness, diagnosis and treatment of PH.
Nominations for individuals to receive an RCN Fellowship are made by members of the RCN and are accompanied by testimonials from colleagues or associates.
Iain, who also volunteers for the Guide Dogs for the Blind Association in his spare time, said: "I was genuinely surprised and humbled to hear about the award. To be recommended by your colleagues in the area you've worked in for 30 years is special – I don't think any recognition can surpass that.
"After leaving school with one O-level and being told I wouldn't make it, I'm very proud of what I've achieved."
Iain was the first nurse consultant to work in pulmonary vascular disease after enrolling in 1982.
Professor David Kiely, director of the Sheffield Pulmonary Vascular Disease Unit at the Royal Hallamshire Hospital, said: "Iain is a fantastic colleague and I have been privileged to have worked with him for nearly 20 years. The award of the highly prestigious Fellowship from the Royal College of Nursing reflects a professional career dedicated to supporting people affected by pulmonary hypertension.
"He remains an inspiration to nursing and medical staff both nationally and internationally and as the Chair of the PHA UK he has pioneered the development of a support network for people affected by pulmonary hypertension."
Carl Harries, clinical nurse specialist in pulmonary hypertension at the Royal Brompton and Harefield Hospital in London, who nominated Iain for the award, said: "Iain's commitment to patients and raising awareness of PH as a rare condition has really stood out to me. He has a great understanding of their needs, and a huge determination to fight their corner."
"The way Iain balances his clinical work with his charity commitments is exceptional and he is responsible for the strength of the PHA UK within the public domain."
Kay Yeowart, co-founder of the PHA UK, added: "Iain has dedicated much of his life to his patients and charity members' wellbeing, giving enormous amounts of his personal time to the PHA UK. Through the charity and his work, he has enhanced the lives of many patients and their families.
"Iain has the enthusiasm to continue working with others to ensure the success of the charity for many years to come."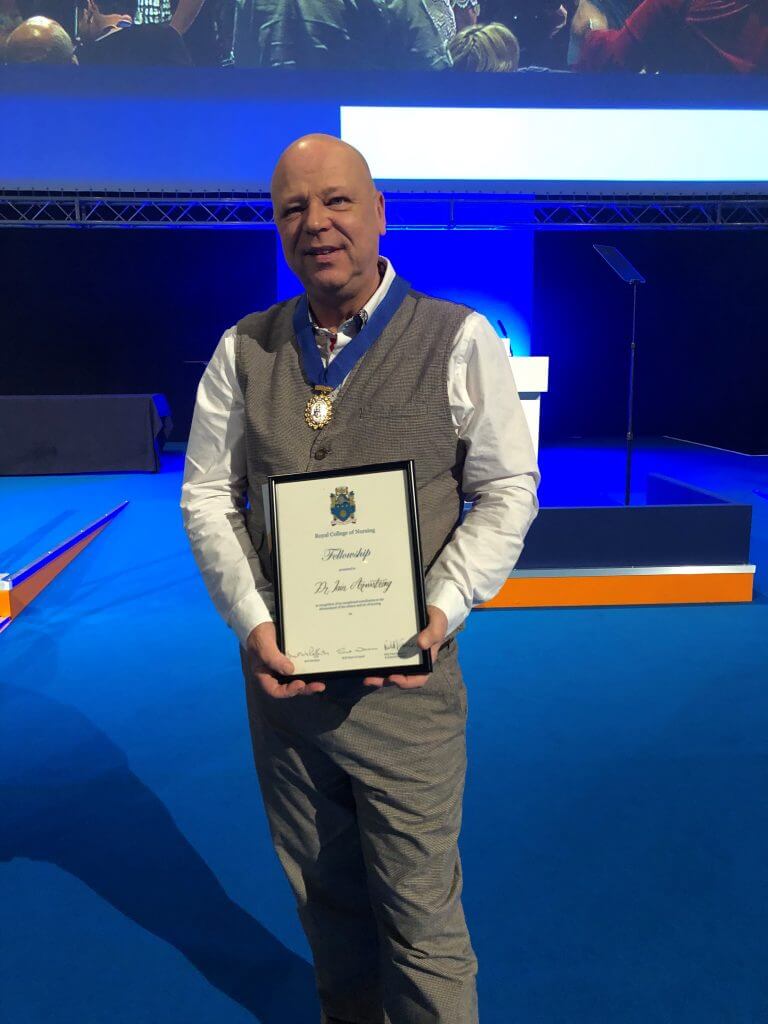 NOTES TO EDITORS
Image shows Dr Iain Armstrong with his Royal College of Nursing Fellowship Award.
Media contact: Chris Coates on 01226 766900 or at chris@capitalbmedia.co.uk