Pulmonary endarterectomy
What is pulmonary endarterectomy?
Pulmonary endarterectomy (normally shortened to PEA) is an operation to remove old blood clots from the pulmonary arteries in the lungs. Only a small proportion of people with pulmonary hypertension (PH) have blockages caused by blood clots. Some people with PH may have blockages that are not suitable for pulmonary endarterectomy.
Blood clot causing a blockage in the pulmonary artery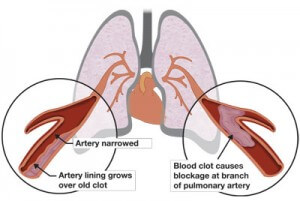 If your PH team think you may be suitable for pulmonary endarterectomy, you will need further tests. Some of these tests may be carried out at your local hospital or at your specialist centre. You may need to go to Papworth Hospital (near Cambridge). This is a centre that specialises in pulmonary endarterectomy, and is the only hospital where pulmonary endarterectomy is done in the UK.
For some people with PH, pulmonary endarterectomy may be a cure. This is because it can restore almost normal blood flow to the lungs.
How is pulmonary endarterectomy done?
Pulmonary endarterectomy is a major operation involving a 'heart-lung bypass' machine. The surgeon opens the pulmonary arteries and removes the artery lining to clear the obstructions. People with PH who are due to have a pulmonary endarterectomy will sometimes need to take PH drug therapy to prepare them for the operation.
All people who have had pulmonary endarterectomy surgery will need to take warfarin for the rest of their lives. This is to prevent the blood clots coming back.
Risks and benefits of pulmonary endarterectomy
Pulmonary endarterectomy is a high-risk operation. If pulmonary endarterectomy is successful it can lead to a substantial improvement in symptoms and life expectancy. However, about 4% of people don't survive the operation. This does mean that about 24 out of 25 people do survive.
Many people are often returned to a normal life expectancy and quality of life following pulmonary endarterectomy. However, some people may have some residual PH that will still need life-long treatment with targeted therapy.